Affiliates


Atom lures have been around a long time...started by bob pond....they made legendary wooden metal lip swimmers...the most popular would be the atom 40.around 7-8 inches.other models were introduced like the 54,with more i don't know of.... and eventually they were made into mass production by using plastic instead of wood...Yoda tells me that bob almost lost his business from switching over to plastics...it did not catch on as fast as he thought it would....but this plastic idea would change everything...the plastic was way more durable than wood...no fading, no pointers from hooks..no big teeth marks from bluefish.

the older plastic ones far surpass the ones made today by atom....i recently bought 2 new ones off of ebay...the metal lips were like 1/8 in off....and the swivels are fused to the plastic...Yoda tells me that the middle hook of the large swimmers will not hold large fish, and i 1000000% believe as he knows way more than i do.....so what do i do with these i just bought?bluefish lures...they are perfect for them...they can chew the shit out of them , and i could care less..

my advice, as far as swimmers go is to buy old.....havent heard about the poppers being defective, but if i find out, i will be posting it....many atom poppers get slammed by fish, and crack....but the thru-wire construction keeps it from being a sure break.....they can take a beating, for sure....if you dont like the bicolor way it's painted vertically. painting it to horizontal will make it look more natural...white or gray on the bottom , and whatever else on top...like blue, black,yellow, etc.

atom makes these little spin swimmers, that look like miniatures of the atom jr swimmers...they look they would take a lot of bluefish, schoolie bass, and albies...would be an alternative to using a tin...throwing metal near millstone is an easy way to get small fish....and it's my belief that these little spin swimmers on light tackle would provide some serious action where the little guys roam...

i will be posting pics of the new ones. pics of older ones i got..and hopefully yoda will let me take pics of his prized wooden plugs

so who is yoda?yoda is a guy i met on ebay that sells vintage lures...he is quite knowledgeable...he has been catching bucketmouths over 30lb for most of his life...many over 40 lbs...and some in the 50's.....all on surf tackle...no boats to speak of...i am trying like hell to get him in here, but he is crazy busy....

_________________
co-creator and founding fadda of the holy mackerels, the only fishing club that encourages "noogies".
i make swayze look like a dance dweeb!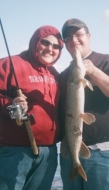 meatloaf

Sasquatch fighting badass








Number of posts

: 1110


Age

: 41


Location

: center of the universe....plainville,ct


Registration date :

2008-03-18





Similar topics
---
Permissions in this forum:
You
cannot
reply to topics in this forum